Dove have a new decadently delicious range out called Dove Purely Pampering. I cannot get enough of this ranges scent which is Shea Butter with Warm Vanilla. As a huge vanilla fan it was a given that I would like it but perhaps it is the "warm" vanilla part that makes the scent more creamy and not overpowering sweet which can often be the case with vanilla scented products.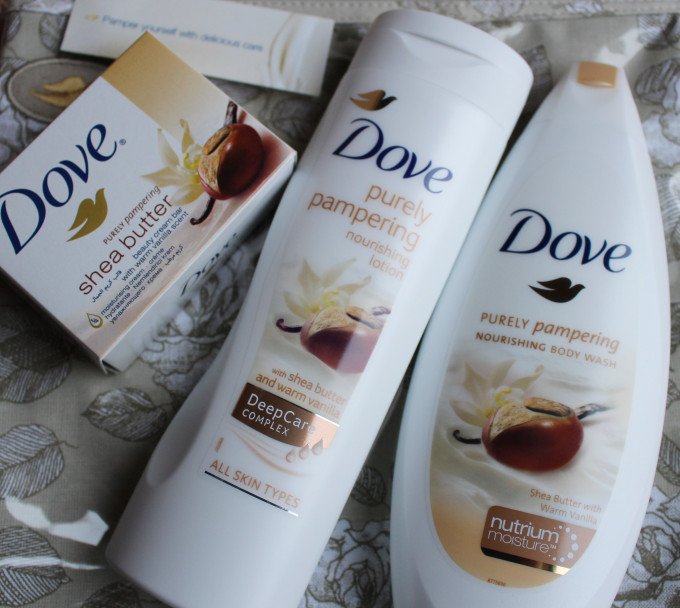 The range consists of three products…
Dove Purely Pampering Body Wash (R 29.99 for 250ml)
With deeply nourishing ingredients such as Shea Butter and NutriumMoisture™. NutriumMoisture™ is a breakthrough formulation that ensures Dove has the highest level of natural moisturisers in a body wash to give skin the essential nourishment it needs. While other body washes may sit on top of skin, NutriumMoisture™ absorbs into the skin delivering the ultimate hydration, to maintain a healthy and balanced state. The Dove Purely Pampering Body Wash helps to replenish the skin which makes it ideal for the colder months when ones skin tends to be drier.
Dove Purely Pampering Nourishing Lotion (R 36.99 for 250ml and R 44.99 for 400ml)
A fast absorbing body lotion that is deeply moisturising and leaves skin feeling soft and smelling scrumptious. I love that it applies quite creamy but sinks into the skin fairly fast.
Dove Purely Pampering Beauty Bar (R 8.99 for 100g)
I am not much of a soap person and was quite apprehensive when it came to testing this bar. However, I was pleasantly suprised not only is it extremely affordable but it also didn't leave my skin feeling stripped or dry. It is infused with a rich blend of Shea Butter, Vanilla and Dove ¼ moisturising cream that helps to leave skin feeling soft.
Please note: The Body Lotion is currently in store and the Body Wash & Bar will
be In Store on 30 April 2014.