On the 13th of May I'll be turning 25, which I am rather freaking out about but I have exams to distract me and daydreaming to distract me from studying so without further ado here is my birthday wishlist…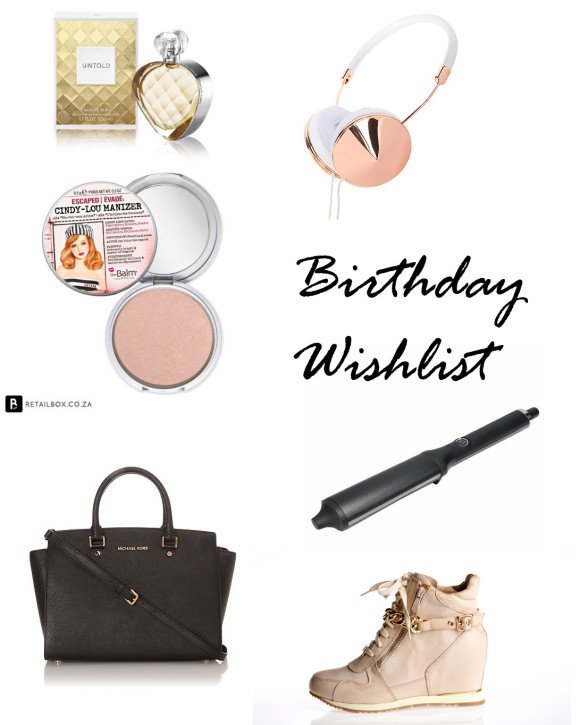 – Elizabeth Arden Untold fragrance: This is the original one and the only perfume that can instantly give me confidence. It is so special to me and I have achieved many things that I doubted I could whilst wearing it. The scent is strong and powerful and strangely highly motivating. I hope that they never discontinue this scent. I am running low on my current bottle so this makes the list.
– The Balm Cindy-Lou Manizer. I have admittedly yet to try anything from the Balm range but have heard so many amazing things about this multi-tasker which can be used as an eyeshadow, highlighter and blush. The Balm products are now available on The Retail Box and the Cindy-Lou Manizer retails for R399.
– Thanks to my incredible sister I am now obsessed with Michael Kors bags and the next item on my wishlist is the Large Selma handbag in black. I am planning on purchasing this one for myself though when we head over to the UK in December. I realised that I don't have an everyday black handbag at the moment and this style is so versatile that it would be ideal.
– I have been eyeing these Frends rose gold headphones for quite some time now. Aren't they absolutely gorgeous?! I heard that they are availbel in SA but for the life of me I cannot find a stockist.
– No matter how many tutorials I watch on Youtube I just can't seem to get the hang of curling my hair with a straightener. I have a curling tong but always trap my hair and end up with a kink at the end. So I feel that a curling wand should be the most simple and easier to use (I hope). This is the GHD Curve Classic Wave Wand, has anyone tried it yet?
– The last item on my wishlist is a bit more of a trend item rather than a classic but what the heck it is beautiful none-the-less! Sissy Boy have released their first sneaker collection and I can't help but lust over the Sissy Boy/ Ronald Sassoon Nude sneaker wedge (R999).
These are simply items that I am currently lusting after and I don't expect anyone to buy me these things. In fact I am the most shy when receiving presents. I never feel that I come across as thankful as I really am. I just don't like to gush. I do love giving gifts though!