Aromatic Apothecary recently sent me some goodies to try out… First up we have some products from the Bed of Roses range. These make wonderful gifts and I really like how perfumed the rose scent is versus an "old lady" type of rose fragrance which is usually the case with most other rose scented body products. I adore the smell of the Bed of Roses range since it is a blend of Rose essential oil and Ylang Ylang essential oil giving it a perfect balance.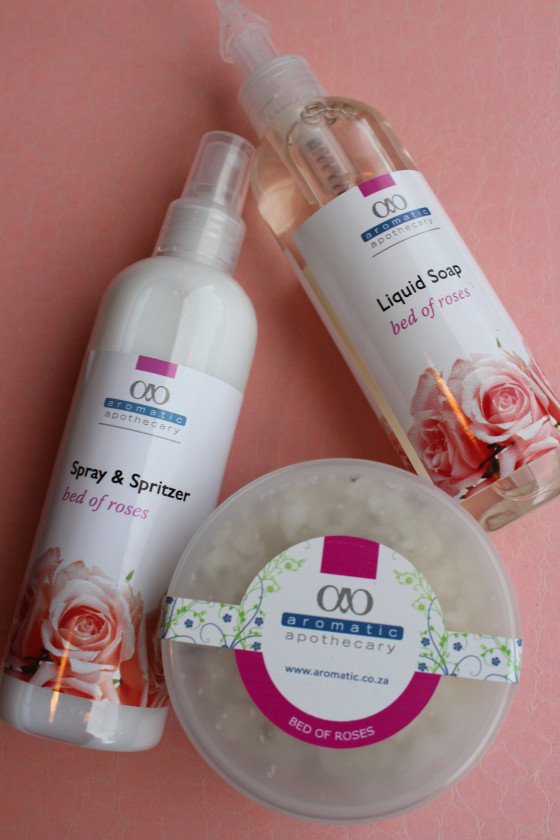 One often underestimates the power fragrance has over your mood. I enjoy using a rose based room spray during winter time because not many people know that rose essential oil has antiseptic, antiviral and bactericidal properties meaning using it as a room spray can keep flu and germs at bay. It is also far more welcoming than walking into a room spritzed with say Tea Tree. You can also use Aromatic Apothecary Bed of Roses Room Spray on your linen if you prefer its aphrodisiac or antidepressant qualities.
Another product I was very impressed with was the Bed of Roses bath salts. Did you know that rose is also antispasmodic? Rose essential oil efficiently relieves spasms in the respiratory system and intestines, as well as muscular spasms. Few things are better in winter than soaking in a beautifully scented hot bath and feeling all the chills and stress disappear.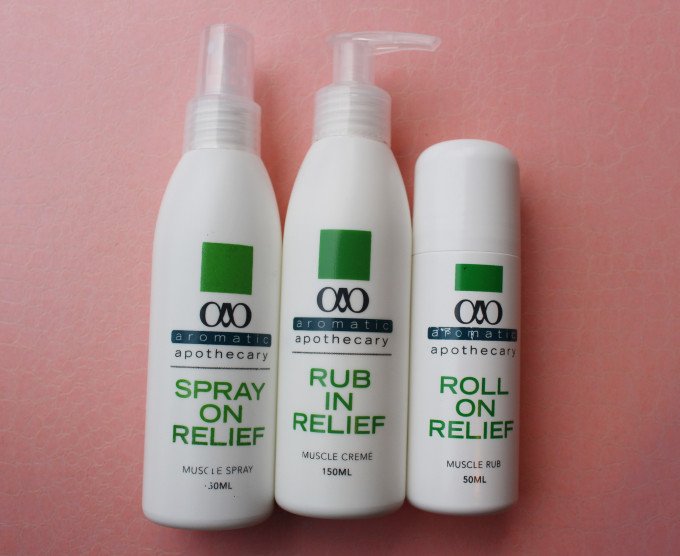 I have a bad back and am constantly suffering from muscle aches and spasms so when I saw the Muscle Relief range I just knew I had to try it. The combination of essential oils work so well to relieve stiff muscles as well as arthritic pain. Ginger warms the muscles, Rosemary stimulates circulation and therefore oxygen, Peppermint cools, Lavender is anti-spasmodic, relaxes muscles and contains pain relief properties, Arnica helps with bruising and inflammation, improves circulation and prevents build up of lactic acid after sport, Menthol is for deep penetration and also adds to the cooling effect contrasting the warming of Ginger and Rosemary.
I like that they offer the same formula in different applications, personally the roll-on is my go-to since it is easy to apply and one can use it to give ones self a mini massage. The spray is ideal for sportsmen and women and the perfect size to carry around in ones tog bag. It is also great for those hard to reach places. We all know that any muscle relief will work better in a cream since it has to massaged in so the Rub in Relief creme is the ultimate.
All of the above can be found in health shops or ordered online at aromatic.co.za