Original Cocktails
kindly sent over a review pack for me to test out, now I love cocktails as much as any other girl so this was a very fun task!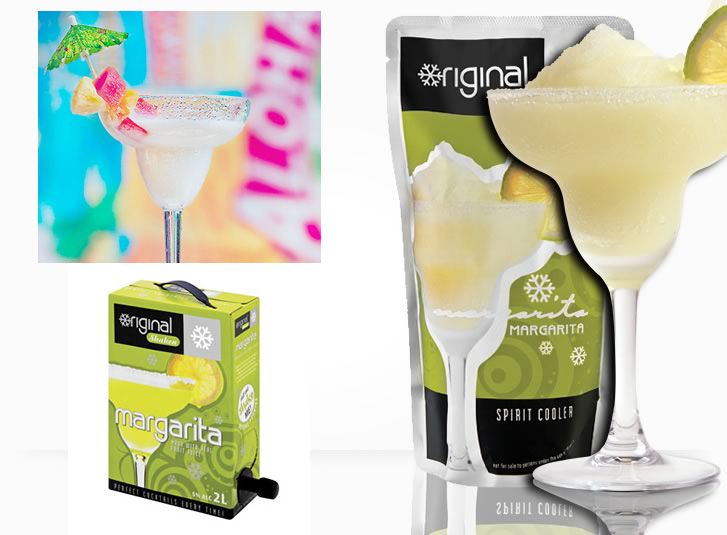 I received a 2L Margarita box, the concept is great for parties no need to pre-mix everything up or hire a barman as it is already all done for you. Just pop it in the fridge or freezer depending on what cocktail it is. So taste wise I really enjoyed the margarita, it contains agave which gives it a slightly different taste a bit more sour then salty. This is ideal for Mexican nights as it really is sticking to the more traditional flavours of a margarita, so bring out the nachos and chilli poppers!
Next up was the strawberry daiquiri, always a favourite on girls night. This cocktail needs to be servedice cold otherwise it comes off a bit too syrupy sweet. This presented a slight problem as obviously chunks of ice can't pass through the funnel on the box so we had to cut it open andthen use a shaker. In future I would recommend rather just chilling the cocktail and then adding a few cubes of ice and using a shaker before serving, a little more effort then the others but worth it. Overall a very delicious mix once again. I have tried Original CocktailsPinaColada and the Cosmopolitan mixes. Cosmo will always be a winner and it did not disappoint. I have never been a fan ofPinaColada's but their mix converted me it is just that good!Now you have a chance to taste all of  the Original Cocktails…
So a simple tweet gets you entry into the competition and yes you can tweet numerous times (not to the point of spam).Just tweet:
"I want to win a party pack from @OneStilettoBlog and @Original_Iced"
The party pack consists of x6 300ml cocktails mixes.
Competition is only open to South African residents over the age of 18 years.
Competition closes 15/03/2013
Closed! Winner announced on Twitter using a random generator