I use the Skin Republic Foot Peel at least once every 4 months and it works like a charm. Yes, it is kind of gross and your feet really do peel (so make sure you don't have any feet-exposing events planned for the week afterwards) but it leaves ones feet super soft and nourished.Skin Republic is a hypoallergenic skin care range which has been scientifically formulated and laboratory tested by dermatologists. The full range of 13 products focuses on skin care for the face, under the eyes, neck and décolletage, hands and feet. Skin Republic combines the latest advances in skin care with the restorative properties found in nature. Skin Republic sent over some other great products to try out…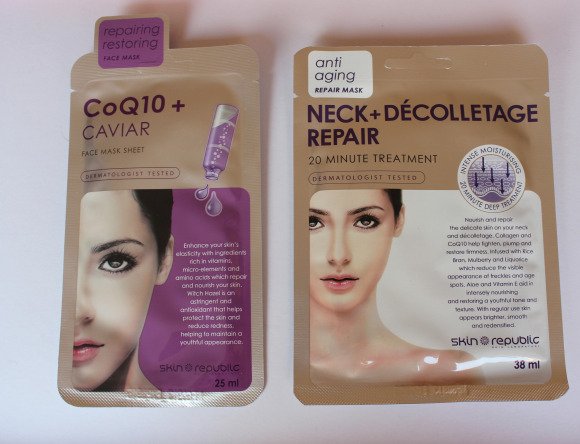 Skin Republic is a range of cloth (also known as sheet) masks from Korea and the first mask, CoQ10 + Caviar Face Mask (R36.99), that I tried is the most traditional of the bunch when it comes to sheet masks. It is a moisture packed facial cloth mask that commands relaxation and restoration when you wear it. I also advise only wearing this when no one is around or with people you truly love because it is not the most flattering. I popped mine on and sat down to watch some series. While on it was very soothing and after 30 minutes I didn't want to take it off but when I did I was amazed. How could a cloth mask leaves my skin SO soft and glowing! They advise that you apply it to cleansed and toned skin and then gently rub in anything that is left over from the mask. The CoQ10 + Caviar mask is rich in Vitamins, micro-elements and amino acids which nourish your skin and enhance its elasticity, it also contains witch hazel which reduces redness.
The new Neck + Décolletage Repair sheet mask (R45,99) looks rather odd when you put it on and it is also best to veg in front of the laptop or tv when wearing this, it applies like a cape covering your neck and décolletage area. I love that it treats the décolletage since very few masks are designed to treat that very sensitive area of skin which is often the first spot to show signs of aging. This mask is packed with anti-aging ingredients such as collagen and Epidermal Growth Factor help tighten, plump and restore firmness. Interestingly, it is also infused with Rice Bran, Mulberry and Liquorice which help to reduce the visible appearance of freckles and age spots as awell as CoQ10 and Vitamin E which help to moisturise and create a more youthful tone and texture. Results-wise I definitely felt more moisturised and a slightly firming sensation after use but I feel this is something that needs to be used on a weekly basis in order to obtain the best results. At under R50 a treatment it is also an extremely anti-aging formula.
Next up we have The Foot Repair (R42.99) which contains two booties packed with the soothing formula. The treatment is also 20 minutes and I really don't recommend attempting to walk when wearing these. Unwind and put your feet up when using the Skin Republic Foot Repair, I did just that after a long day at work when I tested these out. The forumula is incredibly restorative with moisturising extracts of Gingko Biloba, Green Tea, Peppermint, Seaweed and Shea Butter skin is left silky soft and I could happily use this foot mask on a daily basis but will have to stick to once a week treatments!
Last but certainly not least we have the Collagen Hydrogel Under Eye Patches (R47.99 for three treatments). The active ingredients are Marine Collagen, Green Tea, Vitamins A & E and Aloe Vera and the gel patches are very easy to apply and don't budge and if you wanted to you could walk around with a pair of these on. They definitely help to alleviate dark circles and puffiness which was evident after only one use. I will use the other two sets over the next two weeks and see if they help to improve fine lines over time.
The full Skin Republic range is available at Edgars, Red Square, Dis-Chem, Clicks.