When I first laid eyes on the new S/S 15 OPI collection Hawaii I knew it was going to be a popular collection simply for its variety. The formulas however truly impressed me with only one being a little "meh" in my opinion. Let me begin by saying I am no nail art artist. I like a good solid nail polish that is easy to apply, that isn't streaky and that lasts. OPI tends to deliver on all accounts and have been a firm favourite in my nail polish collection for many years now. So let us get to the Hawaii Collection…
Hawaii certainly is a bright colourful collection with a few shimmers and one glitter shade. I used the handy nail swatch to show the shades but will be including some in upcoming outfit posts. Right now I am wearing Aloha from OPI, a perfect summer coral shade that goes with everything.
The first swatch below is after just one coat whereas the second is after two and in one case three coats of polish…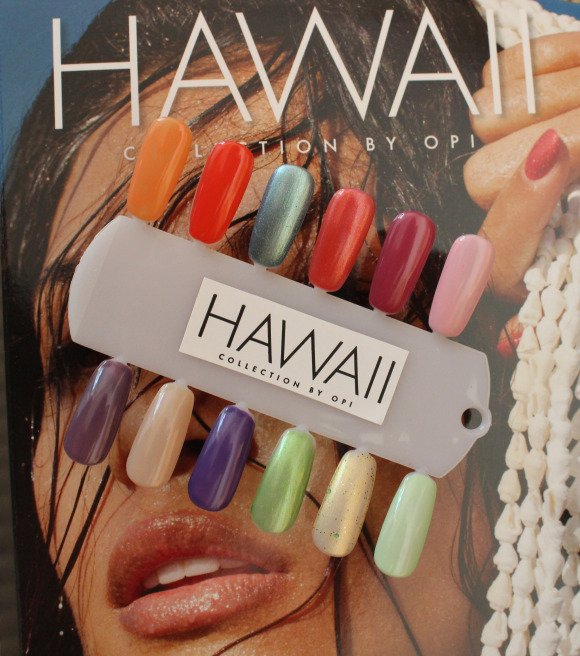 From Left to right, top to bottom:
– Is Mai Tai Crooked?: is a creamy orange that will suit tanned ladies a bit more but worked well on my medium skin tone. At first I thought it would be better on my toes but found myself preferring it on my hands more. The formula is easy with no streaks and two applications gave perfect even coverage.
– Aloha from OPI: a delightful coral that tends to lean towards the red side more than orange. Incredible coverage after just one coat and after 3 days I have yet to experience any chips.
– This Color's Making Waves: as with all of the shimmer shades in the collection a second coat is a must. This color didn't draw me in when I first looked at the bottle but once applied I really fell in love. The shade is very unique and beautiful.
– Go with the Lava Flow: This is a good solid shimmer which really only shows its beauty in certain lights. The shimmer is certainly more golden making it a multi-depth shade.
– Just Lanai-ing Around:This is an incredible mauve that I know that I will get a lot of wear out of this autumn and even in winter. It is a very sophisticated shade that will work well with all skin types.
– Suzi Shops & Island Hops: A pretty girly pink which is a lovely light pink bubblegum pink. I am so happy to have discovered this pink since even though it is quite a light shade even after one coat it is not transparent. Nothing worse in my opinion then ones natural white tips showing through and distracting from a lovely shade. Another plus is that even though the formula is quite milky it does not easily streak.
-Hello Hawaii Ya?: Is perfect for those who love purple shades but still want the colour to look professional and chic. It shows quite dark in the above natural lighting but in direct sunlight it is a lighter more dusky purple.
– Do You Take Lei Away?: Obsessed with this shade! I might have mentioned before that I am all about neutral nails in-between brights. Sometimes one just needs a break from all the colour. This is the perfect nude and the coverage is excellent. All of the Hawaii nail lacquer shades feature OPI's exclusive ProWide™ Brush for the ultimate in application and this certainly helps provide solid coverage especially with the more tricky lighter shades.
– Lost My Bikini In Molokini: A bright intense purple shade inspired by the reef. If you love purple than look no further this one is for you.
– My Gecko Does Tricks: Sadly this was the only shade which was quite "meh" for me. Overall an excellent collection but application with this shade was harder. Slight streaks are visible no matter how steady your hand is. Also I am not sure whether this shade will work with anyone aside from very fair ladies. It is quite an "in-your-face" shade.
-Pineapples Have Peelings Too!: Perfect for all you pineapple-loving ladies out there, a fun punchy glitter shade.
– That's Hula-rious!: Finally we have That's Hula-rious! (don't you just love the names?!). An exquisite creamy mint shade that builds well and that will suit everyone.
The Hawaii Collection is available as from today at selected salons and all of the shades are also available in Gel Colours.
Spot any shades that you can't wait to try?