One of my favourite brands, Dermalogica, has launched 2 NEW Ways to Get Clear, Glowing Skin! Their Clear Start range is developed for young adult skin but in no way does that mean you can't use it if you still suffer from blackheads and breakouts.
I'm going to be real with you here…Are you ready for this? This product is one of my now HOLY Grail skincare products. Crazy, right?! The NEW Blackhead Clearing Fizz Mask has unique fizzing technology that activates upon application to open pores, help dissolve congestion and facilitate blackhead clearing. Skin-soothing botanicals also work to combat dryness, leaving your skin smooth and refreshed.
It applies as a soothing gel and slowly starts to fizz, it is not irritating to the skin at all and I expected some redness afterwards but nothing except clearer skin. I suffer from frequent blackheads on my nose and SO many products just dry out my skin. The Sulfur provides anti-microbial benefits to help keep the skin clear, this mask can be used 2-3 times a week as needed. At first, I used it twice and now I only need to once a week. Super impressed.
It also contains Kaolin Clay which absorbs excess oil and purifies the skin. This can be used all over the face or on target areas. I love how quick and simple it is and am recommending it to anyone with blackheads. Also at only R329 for 6 months worth of use, it is totally worth it.
The best news is that ALL Dermalogica Clear Start™ products are now available at a selected number of Dis-Chem pharmaceutical stores. Do note that Dis-Chem won't perform Clear Start™ treatments. However, you can easily purchase Clear Start™ from their stores. How exciting. For a store locator, you can visit here.
The other new product in the Clear Start™ range is their Breakout Clearing Booster which banishes breakouts which retails for R329 for 4 months use.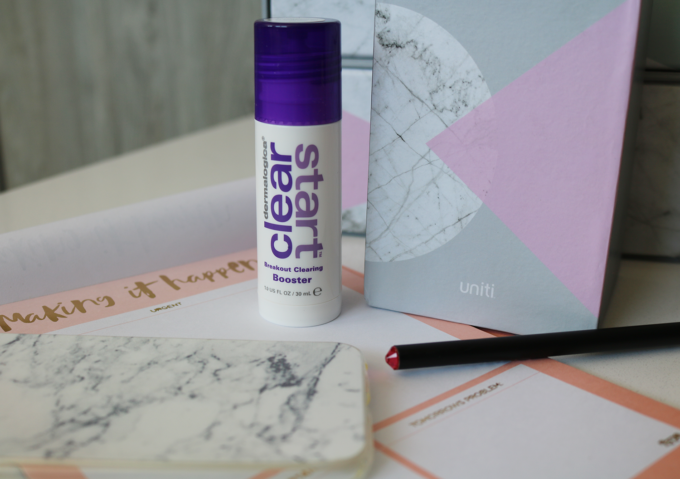 Life is stressful enough with studies, social lives and hormones so when a breakout is triggered by hormones it signals excess oil production which can also be stimulated by changes in our diets and psychological stress. We all know that feeling when a painful pimple is on its way and we need to do something fast.
When the excess oil, debris and bacteria get trapped in the follicle, this can lead to breakouts. The Breakout Clearing Booster is an invisible formula clears breakout-causing bacteria in only 15 minutes for rapid skin clearing.
Have you tried the new Clear Start products from Dermalogica yet?