These have been available for quite some time now, in fact since May already. For some reason I kept neglecting trying them and now I am kicking myself. I am absolutely loving this range and have found my holy grail red nail polish dupe among the collection. The Maybelline Colour Show Nail Polish range retails at only R49,95 each.
From left to right:
– Park Avenue Pink which to my eyes is more of a red than a pink. It is 99% the same shade as the now discontinued Essie Exotic Liras which was my Holy Grail red nail polish so I am beyond ecstatic to have found this polish.
– Violet Vogue is a really beautiful chic shade and the coverage is amazing. One coat is all that is required but I did swatch two coats.
– Black Magic is an onyx glitter shade that looks incredible over white nail polish as well as black. The glitter flakes are quite large so they make a statement.
– Canal Street Coral is a creamy peach shade and one which I have been wearing an awful lot this spring as it is such so soft and pretty.
-Teal Reveal is the only shade that I have not been that charmed by. It's a very fine shimmer that looks nice over certain shades but isn't "wow" to me. More of a subtle accent nail polish.
-Manhattan Midnight is a really, really dark blue in fact it is almost black but has a hint of deep blue to it. Really an on-trend colour no matter what the season is this is a big shade for 2015.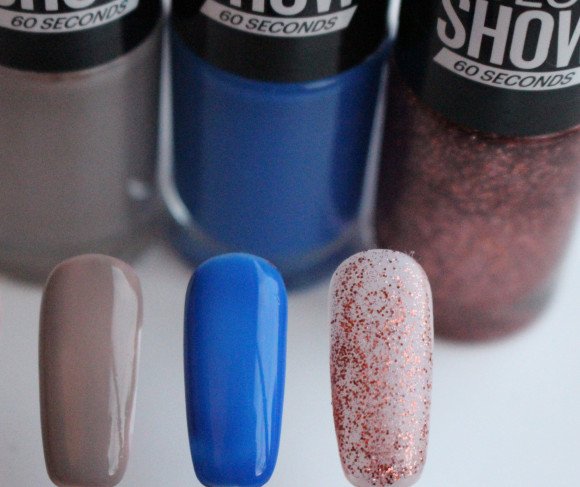 – Sidewalk Strut looks quite boring in the bottle but once applied a touch of beige is more prevalent and provides a lovely warmth to this grey shade.
– Broadway Blues is the the perfect cobalt blue. This shade just makes me think of summer and I know I'll be wearing it often once I have a bit more of tan to off-set it a bit.
– Pink Party Dress is another shimmer shade but this one I actually really like. You can't quite get the full effect on the swatch but when painted over black it looks truly amazing and the copper tones come out more.