Justine recently sent me a big bag of goodies from their most loved Justine Tissue Oil range. When I think of Justine their famous tissue oil jumps to mind so I was pretty excited to discover they have an entire range containing it from hair products to face care.
First up I wanted to review these three body care products because they were my instant favorites so much so that I have almost used up all of the divine body butter.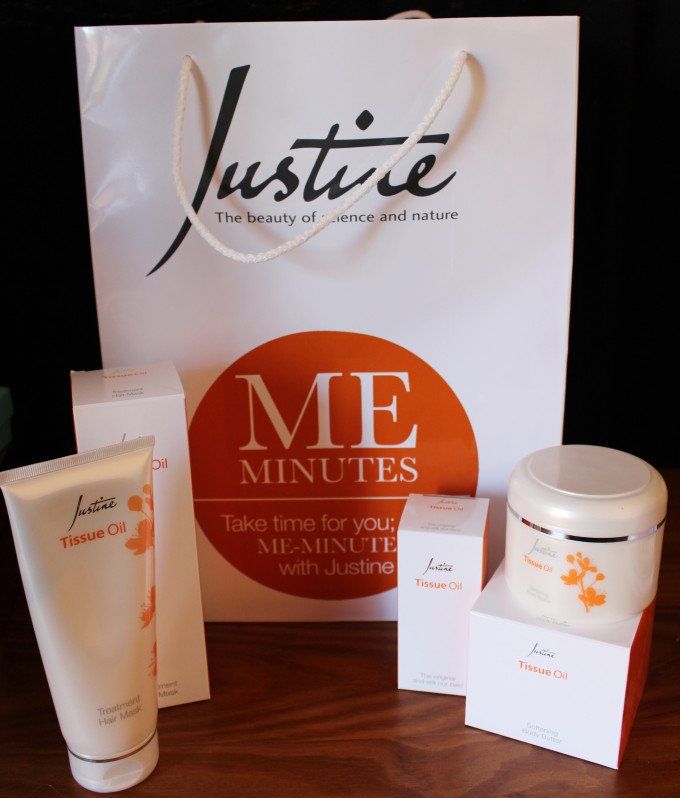 First up lets start with their tissue oil with SPF25 (R210) ….it is formulated with vitamin E, wheat germ and sweet almond oil as well as an advanced emollient blend. It is intensely moisturizing, nourishing and soothing too. The tissue oil can be used for scars, stretch marks and dry skin.
The Justine Tissue Oil Softening Body Butter (R195) is extremely luxurious and ultra moisturizing. Like I said, I am already reaching a third of my tub as I have been applying this morning and evening after showering. My skin feels soft and the healthy glow it provides is another plus. I also like that even though it is thick I haven't sweated it off like most body butters worn during summer time. It actually penetrated and feels like my skin has absorbed it instead of just sitting in top of the skins surfaces.
Justine's Tissue Oil Treatment Hair Mask (R99) is another goodie. It looks like lotion and the first time I applied it I was a little afraid that my hair would end up too oily. Applied after shampooing it is best to keep in on ones locks for at least 5 minutes. I tend to prefer putting it on before showering and then only washing off 15/20 minutes after. My hair is reaching a length where I have become slightly obsessed with keeping the ends as hydrated and soft as possible. This treatment washes out with ease (with no icky oil residue whatsoever) and leaves my hair feeling silky soft. I have been using it once a week on my ends.
Justine has an exciting Me-Minutes competition where you can win prizes worth up to R40 000 running on their Facebook page at the moment, click here to check it out.