In a city like Cape Town, eateries are constantly vying for attention. Trying hard to stand out but KONG simply doesn't need to. It's a beautiful hidden gem that is multi-faceted and you feel as if you've escaped from the hustle and bustle even though it is centrally situated.
It is promoted as a sports bar with numerous TV's, two fully serviced dining areas, an incredibly jungle-themed upper deck, two pool tables and if that wasn't enough it also boasts a nightclub sound system.
It easily transitions from a place to watch sports matches, to a perfect spot for a night out. Oh and apparently even their breakfasts are divine which they will be serving this Sunday for the rugby match. Not many places can get all those elements right, but KONG sure does.
Myself and my boyfriend were invited to enjoy some items from the menu and we decided to go during one of the rugby games to entertain him and for me to get the sports vibe. We expected good food but were both honestly blown away but every dish. Each morsel was better than most over-hyped focused on cuisine only places. Portions were of a good size, flavours carefully curated and the presentation of each dish was on a par with fine dining.
An amuse bouche is something to tempt the palate and capture a mouthful of what to expect from the chef. The vegetable maki and beetroot arrabiata bites were exciting and we decided to start off with an array of tapas.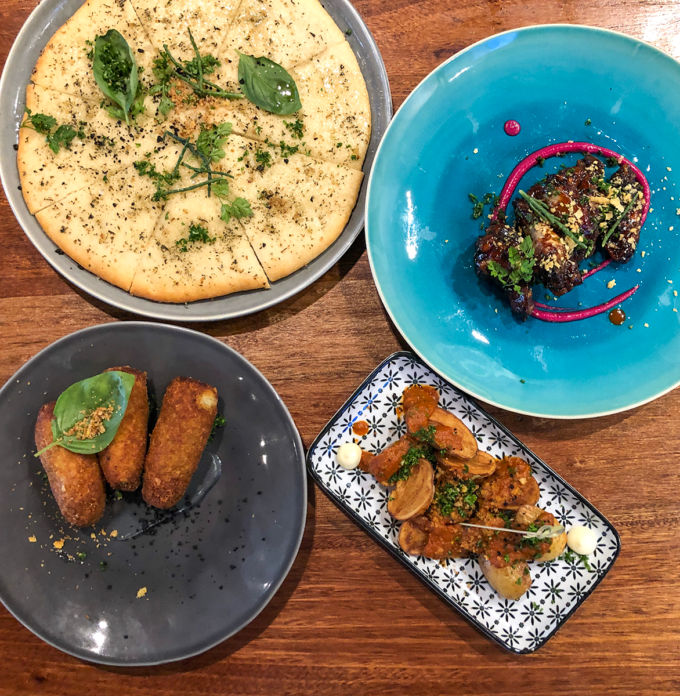 I think I freaked the waitress out due to how many times I remarked on how divine the garlic and herb flatbread was but seriously it's that good. We also tried the Patatas Bravas, jalapeno chilli poppers and my boyfriend had the sticky grilled chicken wings. The sauce smelled so good and we both were impressed with the presentation.
Since we both still wanted to sample a main and dessert to get a full idea of the menu, we chose lighter starters.
The Smoked Trout Salad with peppery greens, marinated cucumber, herb yoghurt, citrus segments, avocado, poppy seeds was out of this world delicious. Fresh and surprisingly filling.
And whilst these are salads which can be ordered as mains rather than simply starters the boyfriend was slightly overwhelmed by the portion of his Asian Beef Market Salad with Teriyaki marinated vegetables, mung sprouts, turmeric noodles, pickled ginger, nori, ponzu style dressing, toasted sesame.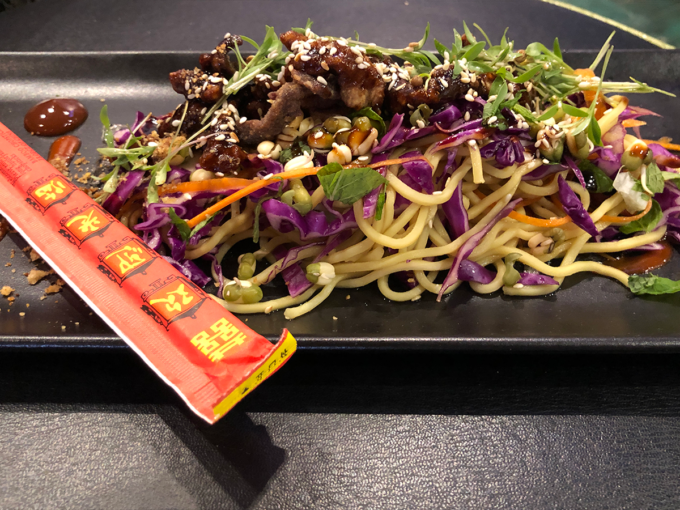 For our actual mains Richard has the Prawn Linguine which has Pan-fried Paprika Prawns in Shell, Linguini tossed in parsley pesto, spicy tomato sauce. I tasted a mouthful and will certainly be visiting again for that.
Just when I thought it couldn't get better my Black Mushroom Burger with a Brioche roll, deep fried Camembert, balsamic glazed baby beetroot, tomato chutney Sweet potato/potato fries. I can hands down say that this was the best vegetarian burger I've had in a long time. I only managed half since we still wanted dessert and asked for the rest to be placed in a takeaway. Ashamedly I'll admit it was so good that I devoured the rest in the car on the way home!
The Coconut and Thyme Panna Cotta with Berry soupe, charred orange segments, honeycomb had been calling my name from the moment I glanced through the menu. Sweet and creamy enough to satisfy a dessert lover but zesty and tart enough to not make one feel as if they have overindulged.
For dessert my indecisive boyfriend decided to go for the trio ice-creams and sorbets but with a couple changes. However, just look at that plating!
They were still working on a revised cocktail menu which I look forward to going back and trying because the two we tried were refreshing.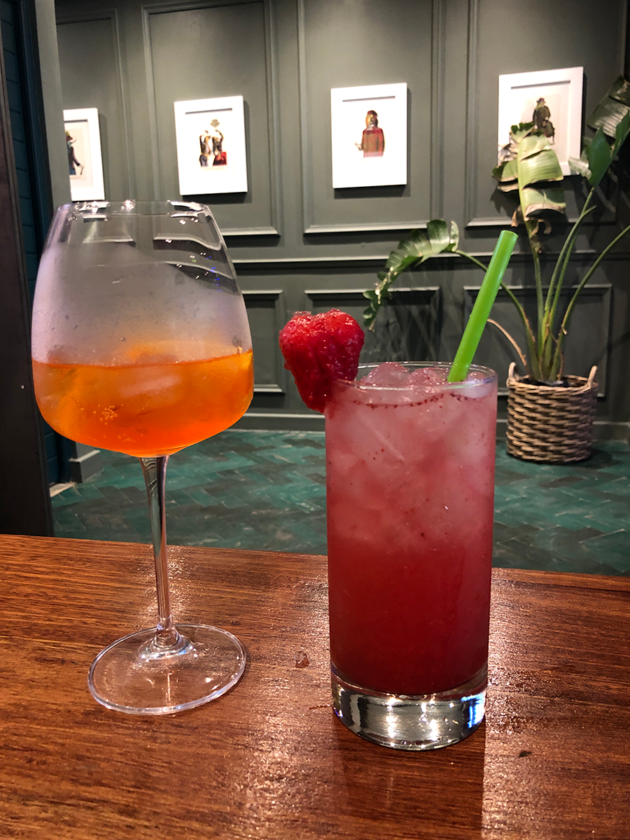 Thank you KONG for spoiling us. I rarely cannot fault a restaurant, there's usually just one small aspect that isn't quite there but KONG hit all the right spots and more!