As some of you may know for the last several months I have been working out in the winelands as a health advisor. Being surrounded by so many beautiful places and having the privilege of going wine tasting at some of the world's best estates has led me to wanting to expand my lifestyle area on the blog. I want to be able to share my great finds from my perspective. I am no "foodie" but I do enjoy good food and great wine. I was also a part of Wine Extra's Taste Team panel for over a year and discovered many unique wineries along the way. However, lets start with a more well-known estate Vergelegen.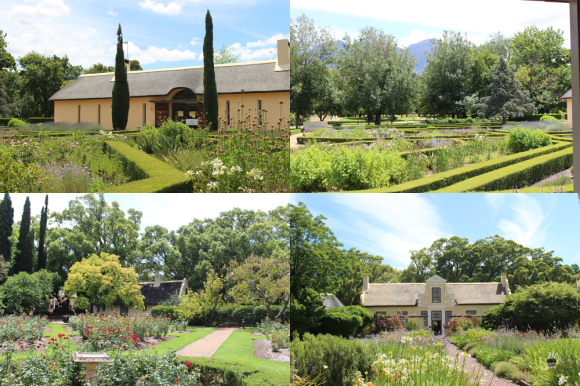 Vergelegen is an exquisite estate rich in history and one could easily spend the whole day getting lost in the heritage of this farm. It is a safe and beautiful estate to walk around and all of the old homes are open to the public for viewing. On a warm summer's day my favourite places to see are the gardens and their rose and herb garden are quite well-known. At the bottom of the rose garden is the Camphor Forest which is where the picnics take place.
To the far left you can spot our table with another table tucked away on the right. This shows you the magnitude of these old Camphor trees and how there is literally a canopy above you. I almost felt like I was transported away to The Magic Faraway Tree.
Vergelegen Estate is also known for its award-winning wines and their Sauvignon Blanc Reserve was an absolute treat. Our very sweet and attentive waiter put up with our crazy trio and they were very accommodating to our dietary preferences with two Vegetarians and one pescetarian. Just make sure you state your preference when you book. Booking ahead is of course essential and can be done over here.
At R199 per head excluding drinks (kids are R95) I was incredibly impressed with how much food was served and how unique the menu was. No boring presentation either! Everything was beautifully presented while never losing the picnic aspect of it. With delicious warm breads served with hummus and Baba ghanoush and a delicate cheese platter. For mains we had divine caramelized onion and goats cheese quiche, the most incredible tofu tikka salad (my mouth is watering just thinking about it), grilled mushrooms and aubergine with fried peppers, coleslaw and lentil & potato salad as well as cold poached salmon and creme fraiche for the pescetarian. For dessert we were served filter coffee (or tea) and an adorable panna cotta & homemade granola bar.
I highly recommend the Picnic Under the Camphor's and will certainly be making a booking again soon!
Please note that for operational reasons the Picnic will be closed from 25 February – 01 March 2015.