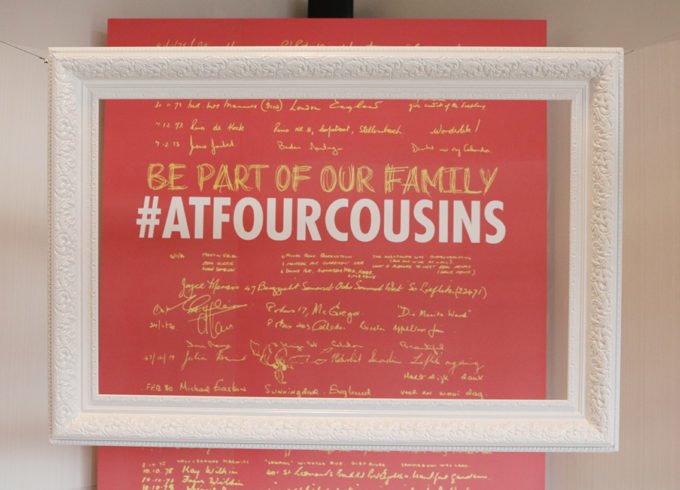 I may be a beauty and fashion blogger predominately but anyone who knows me knows how much I love good wine and food, therefore I am venturing more and more into lifestyle and travel. I was recently invited to Explore Robertson and in particular the Four Cousins Tasting Room and thoroughly enjoyed my experience. As the shuttle trundled out to Robertson I instantly felt calmer and relaxed, perhaps its was the fresh country air or the majestic mountains that command attention.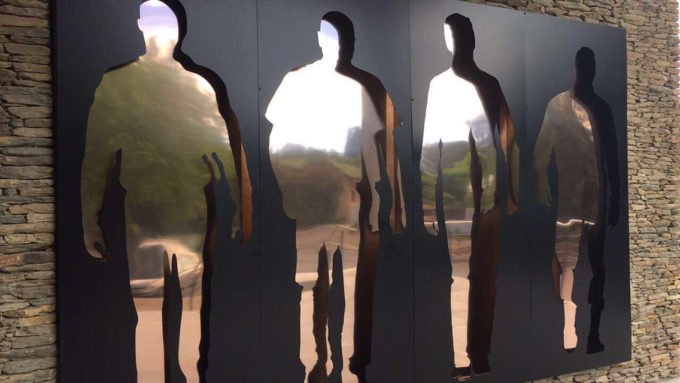 The first thing I noticed when I walked into the Four Cousins tasting room was how stylish the decor is. Every light fitting, the colour scheme, the gorgeous contrasts of metal and dark. I was not expecting to fall in love with the interior design of a wine tasting venue but I 100% did!
Let us get to the wines though. I honestly had no idea that Four Cousins had such a vast variety of wines on offer. Admittedly when I think Four Cousins I flashback to that giant pink 1.5L bottle of Rose that was the staple of many high school parties. While the Four Cousins Sweet Rose is still South Africa's top selling favourite wine the range as a whole has grown and now offers something for everyone. From sparkling wine, to beer, to whiskey to low calorie wines…
The best way to discover your favourite is to opt for the tasting. Bring a group of friends and share the platters amongst yourselves. It is tons of fun and the pairings are so exciting and unusual that they provide a great talking point. Honestly when have you ever had a wine paired with a Zoo biscuit before?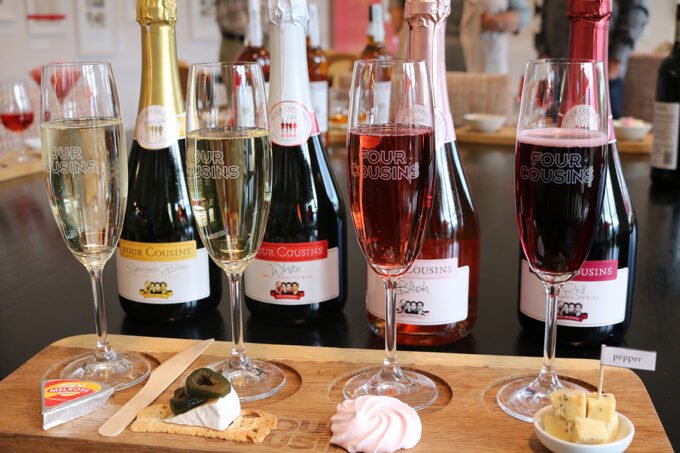 There are over 9 pairings to choose from and pricing ranges from R35 to R55 per pairing. Which is great value for money.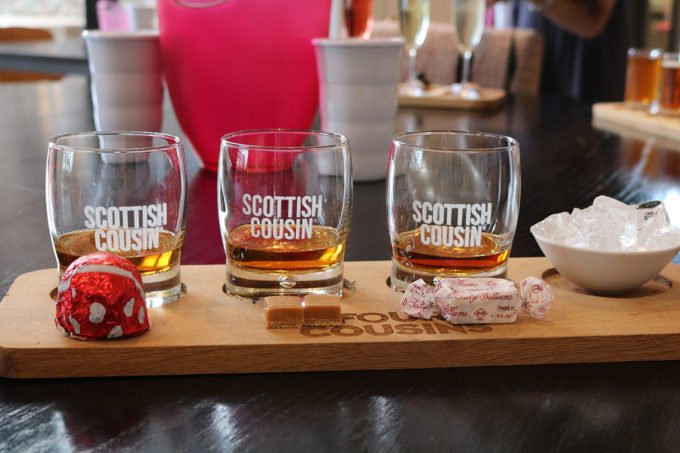 I enjoyed stepping out of my comfort zone and trying the marula cream, blush sparkling and skinny rose but the pairing I enjoyed the most was also the most traditional the Olyberg pairing. The Olyfberg pairing consists of the two Singles range wines Mulberry Merlot and Cocoa Cabernet Sauvignon paired with Olyberg olive oil, balsamic vinegar, tapenade and olives. The merlot was exceptional!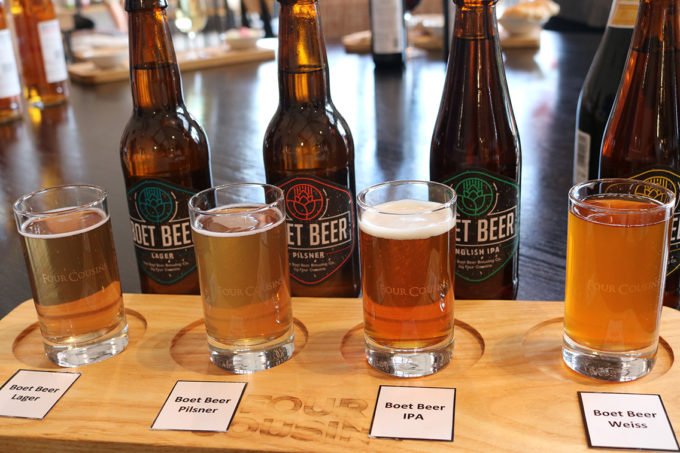 We were also shown the brewery section for Boet Beer and I learnt quite a lot from the Brewmaster. In the restaurant which is divided into two sections a more formal setup and a more relaxed section where there is a bar with Boet Beer on tap and the fire oven for the seemingly very popular pizzas. A perfect pairing.
The more formal section (see what I mean about the decor) was where our large table settled and by now we were all ready to line our stomachs with some delicious food. The menu is like the wines on offer in that there is truly something for everyone including a selection of vegetarian options which always makes my veggie heart happy.
I chose the buttered gnocchi with truffle oil, shiitake mushrooms and rocket. It was so divine and the portion was also very generous. I told myself that after that there would be no room for dessert but then I glanced at the dessert options and suddenly I had a craving for a baked cheesecake. I hardly ever crave desserts or sweet things so I took it as a sign that I had to give theirs a try and I'm so glad I did. Not saying this lightly but that was the best baked cheesecake I've ever had! The tart berry coulis gave just enough tang, the cream was fresh and like air and the little bits of chocolate "soil" scattered around the plate provided the palate with a different texture that was most welcomed.
Overall the wine, food and desserts were all excellent and so was the company too. Thank you Mira for a wonderful experience I will certainly be back to explore more of Robertson!