The wonderful and affordable beauty brand Essence has recently released a Breaking Dawn Part 2 limited edition collection.
I was fortunate enough to receive some to try out and even though I am not a Twilight fan I was excited about this collection.
So the items I got to try out were..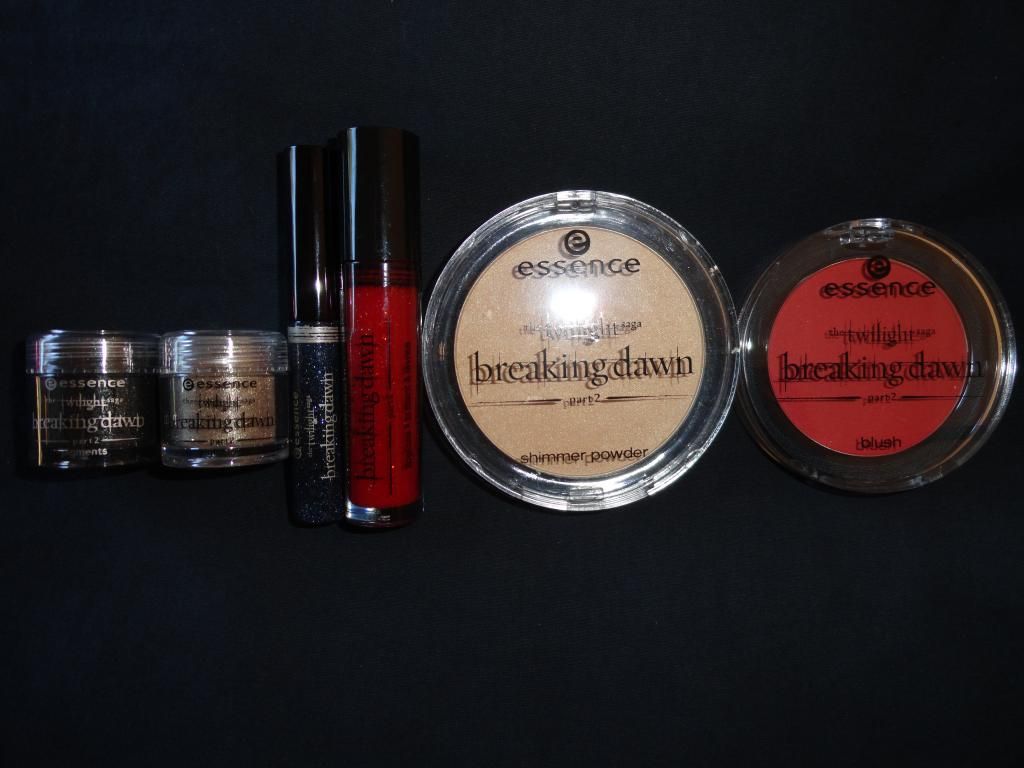 From L-R
First up are the pigments, the darker shade is 01 Jacob's Protection it is really dark and the pigment is super rich meaning one glide of this and you are good to go.
The other one is 03 A Piece of Forever which is a really shimmery gold and works well as a highlighter. You can build quite a bit with it so works best when blended with another shade. Pigments are R29.95.
I was very excited to try out the glitter eyeliner and loved the dark blue shade that is 02 Jacob's Protection (once again). Sadly however it disappointed in that you have to use a lot before it is even noticeable. R29.95.
The lipgloss I received is in 02 Renesmee and is a bright cherry red with glittery flakes, it is little bit too young looking for me but one could pull it off perhaps in the evening in place of a red lipstick. Lipgloss is available in two shades and retails for R29.95.
The last two are my favourites, the shimmer powder 01 Bella's Secret is lovely and subtle. It is ideal to use as a highlighter when contouring or gently dust with a large brush to give a subtle healthy glow to ones skin. At R39,95 it is a must-have from the collection.
Finally there is the blush in 01 Renesmee Red which is quite an intense red but if applied lightly it looks great on tanned and darker skin tones. R39.95.
Have you tried any products from the Essence Breaking Dawn range yet? Essence is available from Clicks and Dis-Chem stores but hurry because many have sold out already!