Few products are as iconic as Elizabeth Arden's Eight Hour cream. The cream has been around for years and still tops the list of every beauty editor and model's must-have beauty list around the world. The reason being is that it is not only fantastic for repairing dry, chapped skin but it is also useful for so, so many things. From a skin hydration booster to an eyebrow serum, it can be used for a multitude of uses and deservingly belongs in every women's (and men's) beauty arsenal.
Elizabeth Arden just keeps upping their game though and have released a fragrance-free version, a lip balm version and even a red lipstick version, all of which are truly phenomenal. Their latest offering however, truly tops them all though… An All-Over Miracle Oil.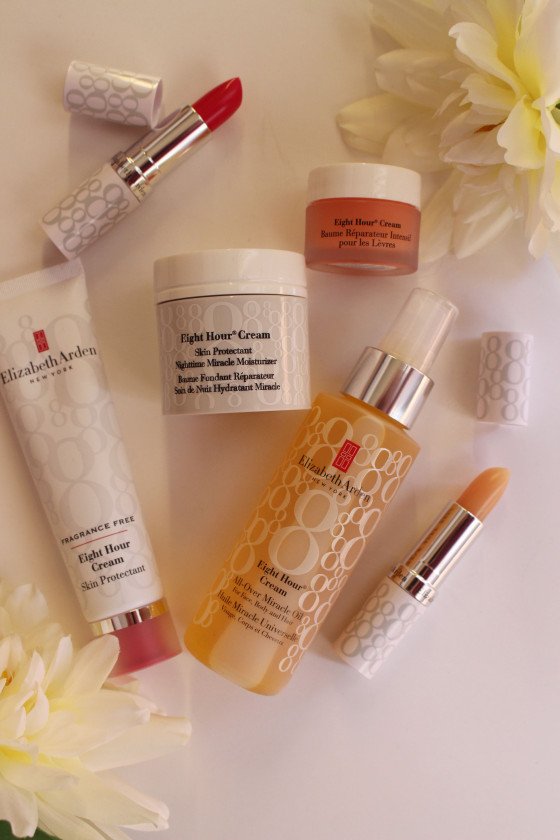 Elizabeth Arden Eight Hour Cream All-Over Miracle Oil is suitable for all skin types, including sensitive.
This all-in-one can be used on the face, hair and body:
For the face: Mist a thin layer directly onto clean, dry skin and lightly massage in an upward circular motion for a healthy and radiant looking complexion. It is gentle enough for all skin types, non-comedogenic and will not clog pores.
For the body: Like liquid silk, this fine oil penetrates deeply and is clinically proven to deeply hydrate and lock in skin's moisture for 8-12 hours.1
For the hair: A light mist can be smoothed into damp or dry hair, to impart hair with a glossy shine, without leaving behind a greasy residue.
The ingredient list contains the Tsubaki Oil which is native to Jeju Island off the coast of Korea and is derived from the Camellia flower. It contains a high concentration of Omegas 6 and 9 to help nourish, soothe and protect the skin. In addition, it helps to boost skin's natural collagen to smooth skin and improve its overall texture.
Elizabeth Arden Eight Hour Cream All-Over Miracle Oil also contains
— Grape Seed Oil – Abundant with Omega-6 fatty acids, this oil intensely moisturizes and conditions the skin.
Ginger Root Extract – Helps to improve the skin's texture and tone.
-Boswellia Resin – Helps to improve the skin's firmness; helps to soothe and calm red or irritated skin.
-Vitamin E – Helps to condition the skin and protect against free radical damage.
-Olive, Avocado & Sunflower Seed Oils and Rosemary Extract – Impart skin with moisturizing, skin conditioning benefits and antioxidant protection.
I have used this product for daily moisture on my face, body and hair this holiday and even with all of the drying conditions that sun exposure, sea salt and chlorine tend to bring my skin and hair have remained healthy and shiny. The scent I will now always associate with summer, as it has a fresh and invigorating fragrance.
Elizabeth Arden Eight Hour Cream All-Over Miracle Oil retails for R385 for 100ml and is available at department stores nationwide.