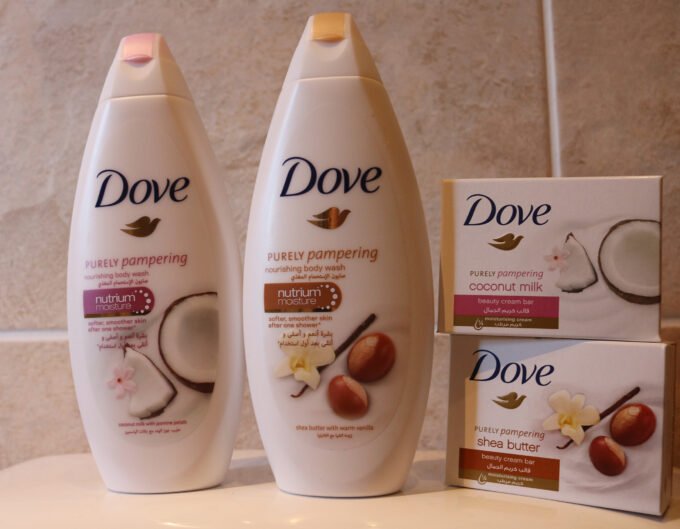 There is nothing better than getting into a hot shower after a long day and applying a luxuriously rich shower gel to your skin. Dove have expanded their Purely Pampering range to include the new Dove Coconut Milk infused with jasmine petals which has the most divine scent.
The Dove Purely Pampering Coconut Milk Body Wash contains NutriumMoisture™, which is a breakthrough formulation that gives skin the essential nourishment it needs. NutriumMoisture™ claims to absorb better into the skin delivering ultimate hydration. I must say that this range certainly delivers in terms of moisture. My skin feels soft and hydrated when I step out of the shower.
The Dove Purely Pampering Coconut Milk Body Wash also contains Coconut Milk which is renowned for being packed with nutrients and leaves your skin feeling restored and nourished.
Also in the range is the Dove Purely Pampering Coconut Milk Beauty Bar. I usually steer clear from soap bars as I find 99% are too harsh and actually leave my skin feeling tight and stripped of moisture. I decided to give the Dove Purely Pampering Beauty Bar a try and will admit it is different. My skin felt soft and the soap bar felt gentle. The soft lather didn't feel as if it was taking all the moisture with it. I still prefer the Body Wash however as I'm just not a fan of using soap bars instead of gels/washes. I do love how this left a subtle jasmine scent on my skin though that I could pick up on throughout the day.
Dove Purely Pampering Beauty Bar- R10.99
Dove Purely Pampering Beauty Bar 4 pack- R37.99
Dove Purely Pampering Nourishing Body Wash 250 ml-R37.99
Available nationally from all major retailers.