Through the blog I use many, many different products on my skin. I am constantly having to chop and change. I love to mix beauty products and alternate between a number of different serums and wonder potions but with my actual skincare routine I try to find a base. When reviewing different skincare ranges I tend to use them day and night for a minimum of 2 weeks in order to give a proper honest review and allow my skin time to adjust to a new range. Two months ago I decided it was time to stick to a set cleanser, toner and day cream in order to re-balance my skin. I chose to not review any other cleansers, toners and day cream within this period. I will still be reviewing other brands but limit it to one per month.
I had heard so many great things about Dermalogica and my sister uses the full range along with L'Occitane so I decided to give it a try. My skin is a typical combination skin type with normal to dry cheeks and an oiler T-Zone and since I was experiencing some breakouts around mt chin I was tempted to try the Oily Skin Type Travel Kit first. I like that Dermalogica offers travel kits as it really allows one to try the range suitable for your skin type before committing to the full (and lets admit very pricey for most) full size products.
I eventually settled on products better suited for normal/combination skin types this being the Special Cleansing Gel, The Multi Active Toner and Skin Smoothing cream.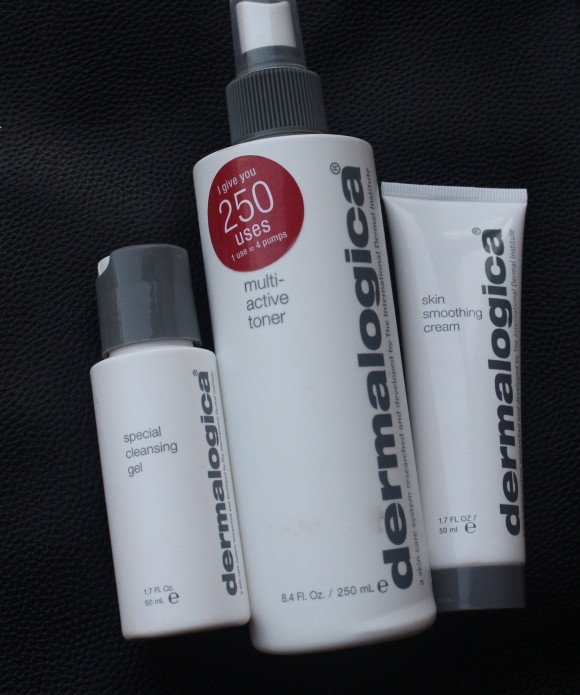 After the first week I wasn't sold. All the products were nice and gentle but there wasn't a dramatic difference however on Day 8 my breakouts were gone and my skin looked so much smoother all over.
The Special Cleansing Gel (R430 for 250ml) is gentle and leaves my skin feeling clean but never tight or stripped of moisture. It also helps remove some makeup but I do still use REN for that.
Two pumps of the Multi Active Toner (R450 for 200ml) is enough to cover my face and neck. It has a gentle fresh scent and isn't sticky or harsh.
The Skin Smoothing cream (R560 for 50ml) stands out the most to me. It is literally airbrush in a tube and creates a perfectly even canvas for me to apply my foundation on. I still get my usual hormonal breakout on my chin but it is just one smaller pimple rather than a mass and they fade much faster thanks to this trio.