This is a very special post for me and I would love if you can take the time to read through the CANSA Facts and the information provided. Hopefully this awareness can help someone, somewhere. As we should hopefully all know by now October is Breast Cancer Awareness Month. I really hope you ladies have booked or already gone for your annual mammograms?
As a beauty blog I feature a number of products and brands. Carcinogenic chemical ingredients can be found in many beauty products on the market and are a major contributor to breast cancer. I promise to be more vigilant with the products featured and ensure that they don't include Phthalates (more on this nasty ingredient later in the post).
Africology together with CANSA approached me with the following information. This Breast Cancer Awareness month, Africology aims to "spread awareness of these toxic, endocrine-disrupting ingredients and chemicals with an overall wish for this to fuel change in the cosmetic industry at large."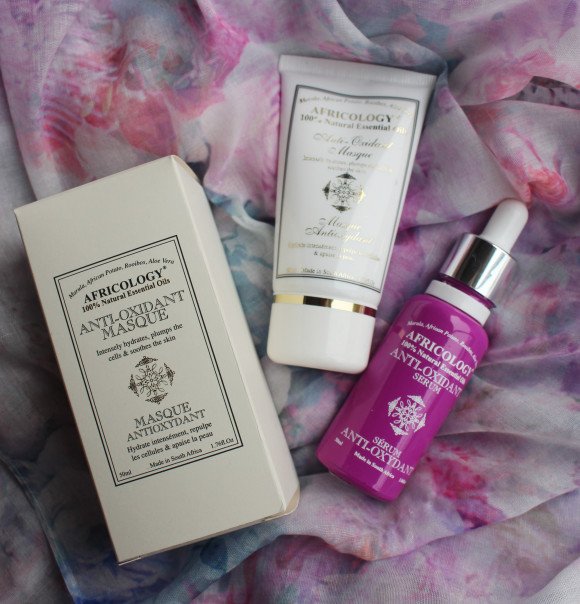 Although switching over to a completely natural cosmetics line would be ideal the number 1 ingredient to look out for is Phthalates.
Some information from CANSA about Phthalates..
"Did you know that a specific signal programs cells in our bodies to die? It's totally normal and healthy for 50 billion cells in your body to die every day! But studies have shown that chemicals called phthalates can trigger
what's known as "death-inducing signaling" in testicular cells, making them die earlier than they should. Yep,
that's cell death – in your man parts. If that's not enough, studies have linked phthalates to hormone changes,
lower sperm count, less mobile sperm, birth defects in the male reproductive system, obesity, diabetes and thyroid
irregularities.
How to avoid it? A good place to start is to avoid plastic food containers, children's toys (some phthalates are
already banned in kid's products), and plastic wrap made from PVC, which has the recycling label #3. Some
personal care products also contain phthalates, so read the labels and avoid products that simply list added
"fragrance,".
Anti-Oxidants help to fight free radicals. So what exactly are free radicals and how are they linked to cancer.
According to Dr Blumberg from WebMD *… "Free radicals" is a term often used to describe damaged cells that can be problematic. They are "free" because they are missing a critical molecule, which sends them on a rampage to pair with another molecule. "These molecules will rob any molecule to quench that need".
When free radicals are on the attack, they don't just kill cells to acquire their missing molecule. "If free radicals simply killed a cell, it wouldn't be so bad… the body could just regenerate another one," he says. "The problem is, free radicals often injure the cell, damaging the DNA, which creates the seed for disease."
When a cell's DNA changes, the cell becomes mutated. It grows abnormally and reproduces abnormally — and quickly.
So using beauty products with a high amount of anti-oxidants is very important. Africology sent me two products to try out.
Africology Anti-Oxidant Masque (R375.00)
The masque contains Vitamin A Palmitate for increased collagen production, improved texture and
elasticity which helps to fight aging. It also contains the powerful duo DMAE and ubiquinone help to protect the skin membrane, keeping cells intact and preventing skin damage and aging.
The Anti-Oxidant Masque is rich in Omega-6 fatty acids and borage seed oil which is an excellent emollient, anti-oxidant, and cell regulator, promoting healthy skin growth. It can help to reduce pigmentation as it reverse some signs of aging.
I am obsessed with this masque and wish I could use it more than the recommended once a week. A thick white paste it glides on with ease and has a gentle cooling effect. It dries quickly but doesn't crumble or flake meaning it is the perfect masque for you to multi-task when you have it on. Ones washed off ones skin glows and pores feel clean and firm. It is very balancing and my skin never feels dry or too tight after use.
Africology Anti-Oxidant Serum (R500.00)
After using the masque it is best to apply the Africology Anti-Oxidant Serum. This little purple bottle contains a powerful list of ingredients!
It contains vitamin A Palmitiate for increased collagen and DNA stimulation and improved texture and elasticity.
DMAE helps protect the cell membrane keeping cells intact and preventing skin damage and aging. Which is great for treating thin, aging skin especially around the lips and eyes.
Ubiquinone plumps up fine lines and wrinkles and regenerates vitamin E production. Our Anti-Oxidant serum also contains Evening Primmrose oil which is rich in Omega 6.
During October Africology will donate a portion of sales generated to the Breast Cancer Awareness foundation in a bid to further cancer research. For every Anti-Oxidant Serum or Masque purchased, Africology will donate R10.00.
To purchase Africology online or to see their Stockists list click here.