Comfort Zone Tranquillity Body Cream retails for R850 and is a very luxurious body cream for dry to very dry skin types. The Tranquility formula has the most amazing scent and like the name it is extremely calming. I love applying it just before bedtime and being engulfed in it's aromatic fragrance.
It's been fabulous at nourishing my skin especially my constantly dry legs and I've been very focused on intense moisturising to keep my Keratosis Pilaris (those annoying red dots) away. This is a pricey but effective body cream. If you're a fan of Kiehls Creme de Corps then you will love this too.
87% of ingredients of natural origin and the combinations of hydrating oils provide an anti-stress sensation, which alleviates the state of tension and induces relaxation and rest. They also cosmetically support the skin defenses and leave ones skin feel silky soft.
The key active oils are:
-Amaranth oil
-Cedarwood essential oil
-Sweet orange essential oil
-Rose essential oil
-Sandalwood essential oil
-Geranium essential oil
-Vetiver essential oil
A while back I received a trial pack also from Comfort Zone but for their facial skincare line, The Essential Discovery Kit.
The ESSENTIAL Discovery kit is a daily cleansing kit with a travel/trial size 50 ML Essential Cleansing Milk, 50 ML Essential Toner and a 50 ML Essential Micellar Water Make up Remover. It comes in a cosmetic bag which is really beautiful and would make an excellent gift. The products are gentle and soothing and the toner is my favourite as it doesn't leave my skin feeling tight. A line that's worth checking out if you have sensitive skin. It's also vegan and free of parabens.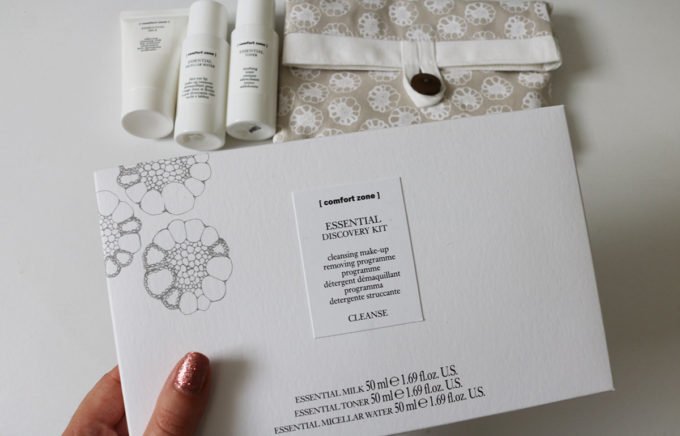 Disclosure Ranking:2