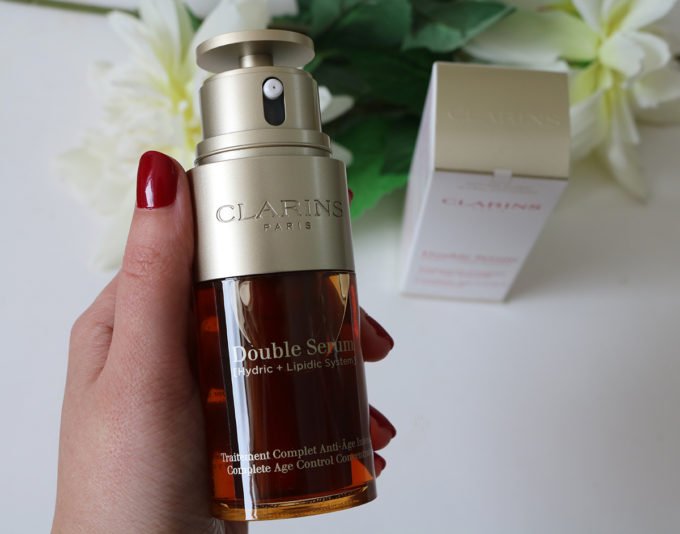 The Clarins New Double Serum landed on my desk over a month ago but at the time I was trialling some other skincare products so I had to wait. Once I started using it, I thought about how many serums I've used over the years and how much of a dramatic difference this one has made versus the many others. It really works and it works quickly. I've had several people ask if I've been on holiday because I look so well rested and my skin is glowing. The glow isn't only from an awesome bronzer but is also due to this serum.
The 2017 New Double Serum is the 8th generation edition. The Clarins Double Serum contains key active ingredients which help with regeneration, hydration, oxygenation, nutrition and protection:
– Turmeric Extract – distinguished for its anti-aging properties.
Katafray extract and Hyaluronic Acid complex help to restore the skin's water reserves for comfort and softness
– Kiwi extract boosts the skin's nutrition for suppleness
– Pistachio extract help to reinforce skin's barrier function for protection
-Extract of Maritime Pine and Organic Musk Rose oil help oxygenate the skin for increased radiance
-Extract of Organic Green Banana, Lemon Thyme and Bocoa help visibly reduce wrinkles and increase firmness
The Clarins Double Serum is targeted at all women, beginning at age 25, who are looking for a very complete product to address their anti-ageing concerns, regardless of their age, skin type or tone. It is suitable for Normal, Dry, Combination and Oily skin types. Even though it does feel quite rich on the skin when you first apply it, it doesn't "sit" on the skin or leave one feeling greasy. Which I love because I have an oily t-zone and serums can often leave my skin feeling too oily. It helps with fine lines and wrinkles, it hydrates and nourishes and reduces enlarged pores.
The Clarins Double Serum is R880 for 30ml and is also available in a luxury sized 50ml for R1180. With Christmas right around the corner this one definitely goes on my wishlist as I don't think I can go without this serum from here on out. It's just that impressive!