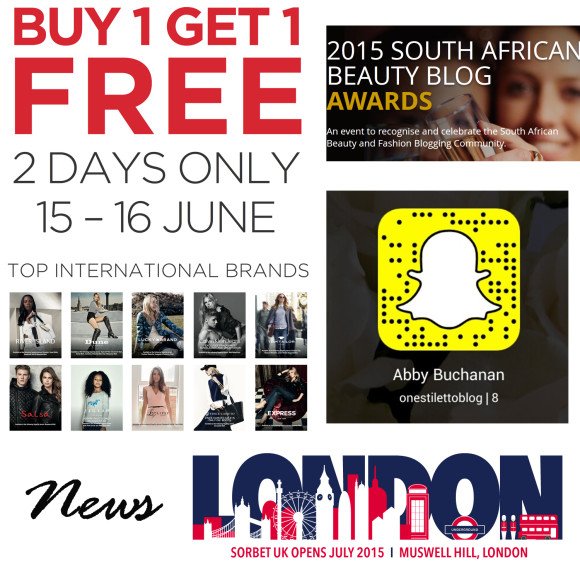 Sundays are usually my catchup days where I spend my mornings blogging, reading and catching up on all of the latest news. I have some super exciting information to share with you guys this weekend.
– Yes, there will be the mother of all specials for two days only! On the 15th and 16th of June 10 top international fashion brands are offering a special promotion of BUY 1 GET 1 FREE. Which means that customers will have the opportunity to save half of their purchase price for every two items bought. This special will be available at River Island, Salsa, Dune, Lucky Brand, Calvin Klein Jeans, Tom Tailor, Jig Saw, Lipsy, Vince Camuto and Express stores. T&C's apply.
– Exciting news for fellow beauty bloggers. We finally have our own awards! Let's be honest the SA Blog awards have been a bit of a joke lately and they never catered to us beauty bloggers but now there is the The South African Beauty Blog Awards 2015 just for us, which celebrates the very best in South African blogging and vlogging. To enter/nominate click here.
– In July Sorbet will be heading to the UK and opening their first store on foreign soil. I absolutely adore the Sorbet brand so was really happy to see them expanding abroad. I will be sure to check out their London store when I am in the UK in December.
– I am hopelessly addicted to Snapchat and share plenty of mini reviews on it. Be sure to give me (OneStilettoBlog) a follow and leave a comment with your snapchat username below for me to follow back.