Just in time for Mother's Day Crabtree & Evelyn have launched a wonderful new Body and Hand Care collection. The incredibly invigorating Tarocco Orange with Eucalyptus and Sage is incredibly unique and warming.
It is very zesty and herbaceous and has a clean refreshing effect when wearing it, you can actually feel your mood lifting. It is ideal for those who prefer a deeper almost spicey richness to their body products.
Left- Skin Invigorating Bath and Shower Gel 250ml R320 Right- Skin Refreshing Body Lotion 250ml R360
To be honest this fragrance had to grow on me, I usually prefer lighter more floral scents and found this to be rather heavy and overpowering. In saying that however after using it more recently I am in love with the shower gel as it wakes me up on cold mornings where the last thing I want to do is leave my bed. The refreshing quality really works better during the colder months so the timing for this collection is ideal. I have already run out of the Shower gel and plan to stock up on some more asap.
Where as with the Shower gel the more zesty bitter orange is stronger with the Body lotion the herbaceous sage and eucalyptus are instantly present and the orange steps into the background and appears almost more like naartjie in fragrance.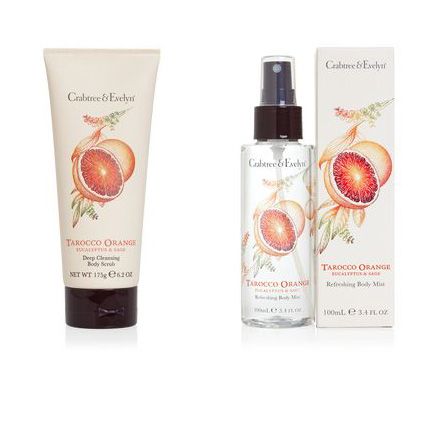 Deep Cleansing Body Scrub 175g R330 Body Mist 100ml R380
I haven't used the scrub yet so can't comment on it but I definitely want to try it, the combination sounds divine for warming one up and getting the blood flow going and during Winter I am obsessed with scrubs to slough away dead skin cells and keep a somewhat lively glow to my pasty skin.
The Body Mist is every jet setter's must-have, great for keeping one refreshed whilst travelling.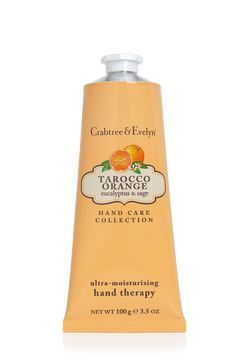 Ultra-Moisturising Hand Therapy 100g R300
Still my absolute favourite hand cream, I always have at least one variant in my handbag. If you haven't tried it before then get down to a Crabtree & Evelyn store immediately! Once you try it there is no turning back, no other "hand cream" will ever compare.
Skin Silkening Body Souffle 225g R520
Even though this is a little bit more expensive then other items in the collection it is so worth it. A tiny dollop sinks into the skin and leaves your skin feeling naturally silky soft. It doesn't coat your skin in a grease which feels silky, instead it actually gets absorbed and feeds your skin. So incredible.
All items from the Tarocco Collection are now available in store and are not yet available online.