Last month I received a 30 day supply of Vitabiotics Perfectil Skin, Hair and Nails to test out. The formula consists of 25 micro nutrients including a good amount of Grape Seed Extract and is suitable for vegetarians, which I love as most products aimed for skin, hair and nails tend to contain collagen or calcium from bovine sources.
I have never had much of a problem when it comes to hair and nail growth however after having my hair cut in a way that thinned it out (in order to make it more easy to tame and blow-dry), I have started to miss the lushness and am trying to grow my hair out more. Hair growth takes time and is overall a rather slow process.
The best tips that I can give for hair growth would be… 1) Use a good supplement that contains Biotin 2) Add 5 drops of Bergamot Essential oil to your shampoo. Please make sure that it is an essential oil and not an essence. Far too many people mistakenly purchase the Lennon's one but that is simply a synthetic fragrance and doesn't have any effect on hair growth. 3) massage. massage. massage. Massage your scalp each and every time that you wash your hair or preferably do give it a good massage every day. If you tend to wear your hair up then this is even more important. You want to get as much blood flow to your follicles as possible.
Nail growth tends to be easier to track with more visible results. After months of constant nail polish wear and Gelish I chose to take a two-week break from polish and just take the Perfectil tablets daily. In this time I didn't cut, file or buff my nails once. I simply allowed them to grow with no base coat and not even cuticle oil.
This is the result so far after 2 weeks…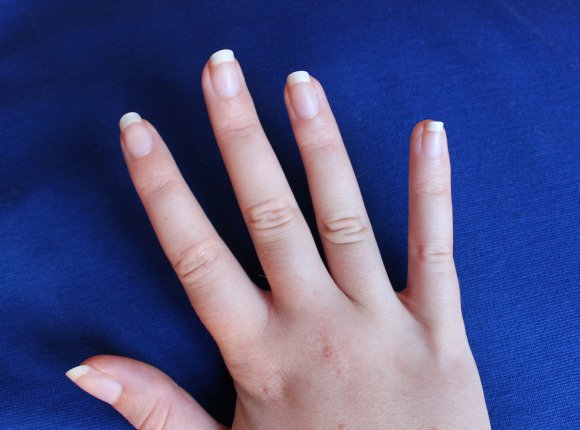 I generally have quite fast growing nails but definitely saw an improvement and the quality of the new growth felt much stronger. Not once in the three weeks of taking this supplement and two weeks of no polish to monitor growth did any of my nails break or tear.
Overall Perfectil Skin, Hair and Nails Original is an excellent general skin, hair and nails support that does deliver results in a fairly short time. Perfectil's micro-nutrients and antioxidants are delivered directly to the hair follicles, nail bed and lower dermal layer of the skin via the blood stream.
I am considering taking it on a monthly basis as I like the formula as an everyday supplement and love that it contains I also like that you only have to take 1 pill a day not a whole handful like with some other brands that I have tried in the past.
Perfectil Skin, Hair and Nails Original retails for around R142 for 30 tablets and is available at Clicks, Dis-chem and leading pharmacies or online at www.vitabiotics.co.za