A couple of weeks ago I attended a fun and informative intimate Elizabeth Arden launch. It was hosted at the beautiful Beau Constantia wine farm (they have superb wine and views by the way). We were given a very interesting makeup demonstration/tutorial using the new Flawless Finish Perfectly Satin Foundation. The stunning Gina Myers, Elizabeth Arden Senior Makeup Artist, gave us tips on contouring. Which I was previously hopeless at but now I know the number one tip is to always blend light into dark and to work fast. The charming Lucoh Mhlongo, a new addition to the Elizabeth Arden team and also one of their Senior Makeup Artists helped guide us through choosing makeup for your facial features.
Flawless Finish Perfectly Satin Makeup with SPF15 (R365) is a lovely matte foundation. It applies with ease and looks amazing on. I feel like it is "airbrush in a bottle". It offers medium coverage and lasts for up to 24 hrs (not that anyone should keep their makeup on for that long) but yes, it truly is long-lasting. This is a fabulous foundation for those with oily skin types. The formula is infused with time-release, shine-control technology and an environmentally adaptable micro-algae extract. "The intuitive foundation recognizes skin's oil levels to control excess sebum without clogging pores. In fact, based on a self-assessment in a clinical study, 90% of women reported that their skin did not feel greasy after 24 hours". The two shades above are 06 Beige and 04 Sun Beige adn there are 8 skin-adapting shades in the range currently. Since I am very fair I found Sun Beige to be most suited to my skin tone.
Beautiful Colour Moisturizing Lipsticks in matte shades (R220.00) are amazing! Seriously I am so happy with these and as you can see in the above pic, these two shades have already been used a lot! The two shades I received are Barely There 44 (Which I wore in my latest outfit post) and Pink Pucker 46. They smell absolutely yummy and last for ages. I am so happy to have discovered them and these two shades have become a part of my everyday makeup routine.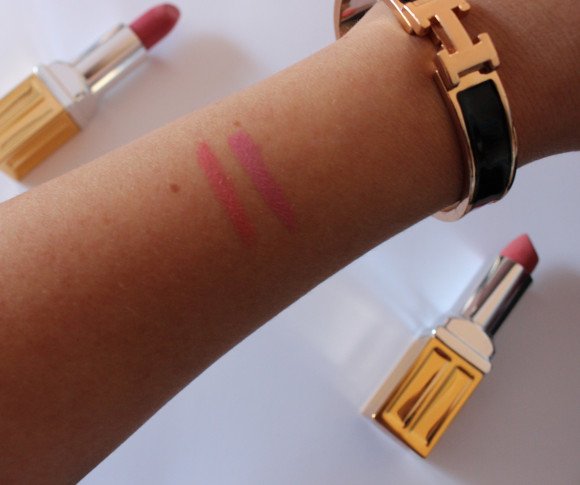 Beautiful Colour Natural Eye Brow Pencils come in three shades: Natural Black, Brownette and Natural Beige and they retail for R175.00.
Eyebrows are still very much in-fashion and a well-groomed defined eyebrow can elevate ones entire look. Elizabeth Arden have released three shades to suit everyone. It was quite difficult to get an accurate shot of the different shades but black is a lovely soft black, Brownette is my favourite and provides a natural light brown brow. The unique one in the bunch is the Natural Beige which is perfect for blondes and those with grey hair too. It is very light but still defines the brow nicely.
All of the products featured in this post are available at Elizabeth Arden counters nationwide.